The

Boat House at Acton Lake
This building was initially constructed as a pump house during world war 2. The purpose was to pump water from the lake to the house plus to storage tanks which serviced soldiers stationed here during the war.
The building was decommissioned after the war and lay derelict for a number of years. It has had a number of uses over the years; pump house, cattle shed.
My husband brought it back into use a few years ago as a place to socialise whilst out on the lake. On developing the Glamping Pod site the next step was to renovate it.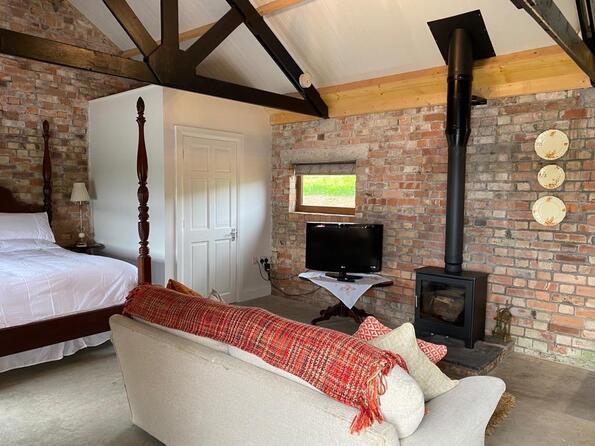 VIP Treatment
We recognise that different people have different needs. Not everyone wants to stay in a Pod or camp out. Some people will always opt for the VIP treatment. This unique space definitely offers that. It is an open planned house with kitchen, ensuite bathroom. Living area with wood burning stove. To top it off there is a fabulous four poster bed which looks out over Actin Lake. What a view to wake up too rain or shine.
Outside there is a patio area with a Hottub with seating to relax and enjoy the peace and tranquility of the lake and surrounding countryside. It is a very private space idea for couples.