Pods At The Lodge was established in August 2018. We are located in the countryside close to Poyntzpass and Scarva, on the Shores of Lough Shark / Acton Lake. Newry Canal flows alongside the lake, as it makes its way to Portadown. You can enjoy a private lakeside retreat away from the stress and rush of daily life.
We have 3 Glamping Pods. The Fox's Den, The Pheasant Pen and The Hare's Hollow. Each Pod has its own area with a picnic bench, parasol and a Firepit/ BBQ. Inside there are 2 beds and 4 single mattresses ( no bedding supplied). There is a small fridge, Kettle, electric to charge your phone and an electric heater.

There is a Hottub on site which is shared between the 3 Glamping Pods. People have access to it.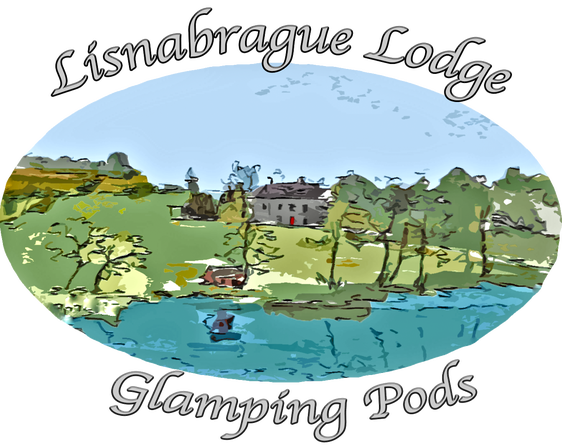 Lisnabrague Lodge
The Glamping site is located on a working Dairy farm within the historical demesne of Lisnabrague Lodge. The house Lisnabrague Lodge (formerly known as Union Lodge) itself dates from the 1700's. There are many fields to walk through and at different times of the year you will see cows grazing in the fields and crops being harvested.

It is set on the shores of Acton Lake which offers coarse fishing. There is also local flora and fauna to be enjoyed. There is an information board on site regarding local wildlife.
What's Near By
For the more energetic the Newry to Portadown Towpath is close by for walking or cycling. You can access information about 'The Newry Canal Trail' via IWAI website. Poyntzpass is approximately half way between Newry and Portadown. It is a good place to explore the Canal from. The Sluicekeepers Cottage which is approximately 20 minute walk from Poyntzpass is open at the weekend re History of Newry canal etc ( IWAI). Information regarding the social and economic life of the Canal. Plus the current work which the IWAI are undertaking.
Poyntzpass Community
Poyntzpass is a unique place, it has always had a strong sense of community where peoples cultures were respected. On setting up the pods we asked the 2 local Primary schools to become involved in a competition.They came up with artwork and information about countryside animals for each pod. These now hang inside each one. The competition winner got to stay in one with her family and sample the Pods first hand.